The International Maritime Organization's (IMO) initial strategy on greenhouse gases (GHGs) is challenging system integrators, shipping companies, and ship owners to find, develop and integrate new and more energy-efficient solutions, to meet GHG emission reduction targets for 2030 and 2050.

Supporting the United Nations Sustainable Development Agenda, the IMO's initial GHG strategy aims to reduce carbon emissions by 40% by 2030 (IMO 2030) from 2008's levels and cut at least 50% of the shipping industry's total greenhouse gas emissions by 2050 (IMO 2050).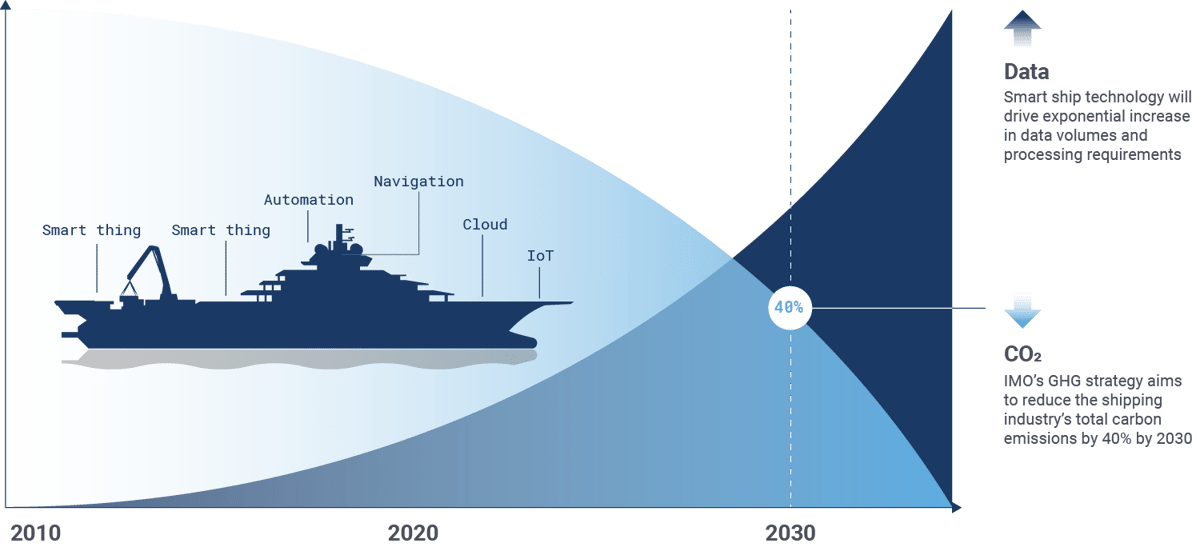 IMO's GHG strategy aims to reduce the shipping industry's total carbon emissions by 40% by the year 2030. To reach this target, ship owners are implementing smart ship technology that will drive an exponential increase in data volumes and processing requirements.
Upgrading the fleet
To stay relevant in a shipping industry unified by a common ecological goal, shipping companies, and ship owners have begun upgrading their fleets by investing in new hybrid and electric vessels, as well as retrofitting current ships with innovative smart ship technology.
When designing and building a smart ship solution, ship owners and system integrators should operate with a long-term perspective – focusing on system reliability and cost efficiency throughout a vessel's 25-year lifecycle.
On average, electronics change every seven years. Key concepts such as lifecycle management, form-fit, and backward compatibility ensure that all systems and hardware are capable and prepared to support data volume and processing requirements seven years into the future and provide a smooth transition when changes must be made.