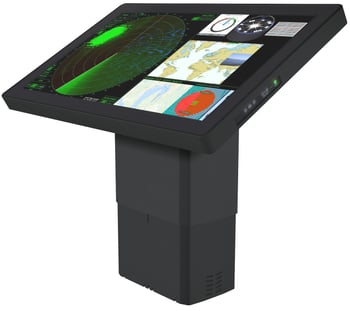 Monitor - HATTELAND® Series X MVD
The 4K resolution 55'' Ultra-High Definition Chart & Planning table is approved for harsh maritime environments, where reliability and long life time are key factors. The 55'' MVD table is a robust, flexible and ergonomic solution, suitable for a wide range of applications including ECDIS, radar, voyage planning, safety systems and tactical command & control platforms. Features include an 40 point Multi-touch touch interface, optical bonding, multi data input, built in On-Screen Display (OSD), full dimming and the option to be supplied calibrated for ECDIS.

A mechanical pod that houses a Hatteland Technology HT C03/C02 computer (optional) provides lift and tilt capability for the Floor Stand Model (Chart Table configuration).