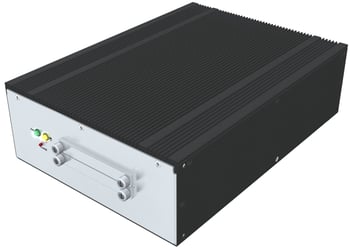 Computer - Compact (HW00)
HT B30 computers are available in two new form factors, short depth and long depth, allowing for flexible installation options including 3U rack mounting in pairs. Using the same system architecture as our new, second generation Series X Panel Computers, the HT B30 range offers significant processing speed and graphical performance improvements, which when combined with multiple-drive solid state storage and silent, fanless operation, positioning it among the most advanced computing platforms for maritime applications.

HT B30 computers can be delivered with a choice of Intel® Core™ / Celeron® processors, up to i7. Graphical output is handled by 1 x DVI-I, 1 x DVI-D and 1 x Display Port (DP++ 1.2) while standard interfaces include 4 x Ethernet Ports, 4 x USB2.0 and 4 x USB3.0. The HT B30 platform also supports a wide range of interface modules such as CAN/NMEA COM/COM and DIO, ensuring it is ready off-the-shelf for all maritime applications. In addition, HT B30G range of computers features a lightweight, fully enclosed aluminium chassis and comes with Hatteland Technology's Multi-power system (both AC and DC power built in).