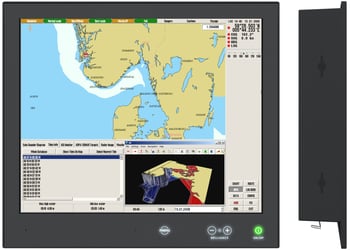 Display - HATTELAND® Series X G1
The Series X display range is a flexible monitor solution designed and type approved for the professional maritime segment, where reliability and long life time are key prerequisites for the industry. The product range combines stunning design and technology with innovative features and options, making it all that the integrator needs for top class type-approved marine systems.

The entry level STD models provide a wide choice of display size and format for shipboard applications where simple data input (DVI & VGA) is required. Be it for ship navigation or automation, this range with all it's possible options provides a robust and cost effective platform from which to display and manage data.

Series X displays feature Glass Display Control™, LED Backlight Technology, full dimming and multipower as standard, and can also accomodate and combine a number of options such as multi-touch screen and optical bonding.