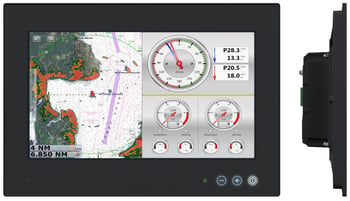 Panel Computer - HATTELAND® Series X G2
Innovative Human Machine Interface (HMI) solutions open up new possibilities for the system integrator. A well implemented touch interface can be much simpler to use than a conventional mechanical button-based interface because it can show the user only those controls that are relevant to a particular operation, while all the controls in a conventional interface are always present.

The GLASS DISPLAY CONTROL, or GDC, allows control of brightness and menu options through projected switches under the glass. Integrators can build software to work with our API to control menu, brightness and other features. This model is delivered with a factory mounted Projected Capacitive Touch Screen (Multitouch, USB interface), Solid State Fanless Construction - No Moving Parts, Embedded light sensor, Buzzer and Aluminum Chassis with Glass Front as standard. Brightness
is dimmable from 0-100%.