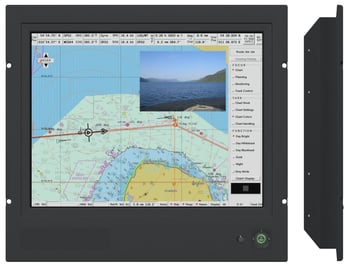 Monitor - HATTELAND® Series 1 G2
The onboard connections include DVI-I, DP, Composite Video, as well as VGA out, RS-232 for touch, RS-422/485, USB Type A for SCOM, SCOM Ethernet and Potmeter/user connection for access to monitor settings.

The Series 1 Generation 2 (G2) MMD models are available in a wide range of monitor size and format, making them suitable for a multitude of shipboard applications, where combining data and video inputs to a single unit provides maximum flexibility. Be it for ship navigation, automation or safety and security, this range with all it's possible options provides a robust and versatile platform from which to display and manage multisource data from all of a vessels systems.

All models and variations can be offered with Optical Technology bonding that mitigates screen misting. By factory standards the unit is ECDIS Compliant.

The Series 1 Generation 2 (G2) Maritime Multi Display (MMD) feature control buttons on the front of the monitor (keypad control) as well as an potentiometer knob, providing fast and easy user access to the monitors OSD features and settings. An Keypad Control only (no potmeter) model is also available.