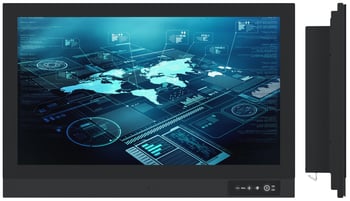 Smart Monitor - HATTELAND® Series E
The HATTELAND® Smart Monitors are based on the Series E family and configured as a Marine Panel Computer (MPA). The unit also meet the same extreme quality standards as the proven Series X Panel Computer range and feature LED Backlight Technology, full dimming (0-100%) all as standard. This is a Solid State Fan-less Construction - No Moving Parts, Embedded light sensor, Buzzer and Aluminum Chassis. The unit supports multi-format video decoders including H.264/H.265/VP9 up to 4k & 2k @60fps (HW), H.264/MVC/VP8 encoders by 1080p@30fps and high-quality JPEG encoder/decoder (HW), typical use case such as running thin client app to control your VM's (like VMware Horizon Client) and VMS app to access your surveillance cameras.

In addition there are options such as factory mounted Projected Capacitive Touch Screen (Multitouch, USB interface), Optical Bonding, variations of CPU, Storage Devices, operating systems and prepared for WiFi and Bluetooth antennas. By factory default the unit is ECDIS Compliant.

Android is a trademark of Google LLC. Google Play are the property of Google LLC.