One of the many smart building definitions can be: A smart building recognizes and reacts to users' and occupants' needs in terms of comfort, health, indoor air quality, safety as well as operational requirements.
The step toward smart building include a secure and flexible network to allow high quantity of data together with a distributed computing system for powerful edge computing. This combination of cutting edge technology located close to the source provides possibilities for artificial intelligence. The main advantages of this local computing are the elimination of latency, providing faster reaction and avoiding downtime. This will always secure an operational system. However, choosing your edge platform to support your processing requirement is key.
Why connect all systems in a smart building?
The automation system must exchange data to obtain a full understanding of the environment at any time in order to increase the building efficiency. For example, automation system such as Light management, ventilation, maintenance and facility management must be aware of the occupancy (number of people present in the building) to ensure energy saving.
It is the connection and data correlation between automation systems that will make the building smart and enable fact-based decisions. The interconnection of all automation systems will enable a better deep learning and a more accurate action from the artificial intelligence core.
Artificial intelligence (AI) and deep learning
Artificial Intelligence

is used to refer to the part of the human brain that mimics function such as learning and problem solving. It is a technology of using the human mathematical and systematical approach to a problem. Artificial intelligence does not include the emotional aspect of a human being. The Machine equipped with artificial intelligence will perceive its environment and take actions to achieve the goal based on historical data, data correlation and mathematical algorithm.

Deep learning

is a technique used in computing program to teach a machine what would come naturally to a human. The machine will be taught to be able to understand its environment. Deep learning is used to teach a computer to recognize sound, image and text, therefore it is a very useful in combination with IP camera networks, that has both possibility of sound and image.
Artificial intelligence is mostly used in a system that requires work with Deep learning. Deep learning fathoms the teaching and historical data, whereas AI crunch the data to achieve a dedicated goal. Outcome made from the machine will be a combination of complex mathematical algorithms and lessons learnt from the past.
For example, Occupant comfort is defined as creating an environment that is:
visually stimulating
thermally acceptable
acoustically comfortable
delivers superior air quality.
Using occupancy estimator solutions helps the building manager to understand the utilization and potential benefits of the facility.
Environmental parameters, such as temperature and CO2 will vary with an occupant's body movements and actions, Wi-Fi signal utilization variation will vary as occupants use computers and mobile devices or elevator positions will vary as occupants are entering or leaving the building.
Use of AI will enable the building to ensure that the wifi signal is always acceptable to allow user non interrupted connection, that the level of CO2 and temperature is comfortable at any time and that waiting time for changing floor is always kept to the minimum.
Cloud computing Vs Edge computing
Cloud computing allows access to powerful computing machines without investing in expensive hardware. The introduction of PaaS (platform as a service) and cloud-based applications have been doing the heaving lifting to integrate smart building application. However, cloud processing lacks the real time aspect and introduce latency that is not acceptable for time sensitive applications.
Moving from the cloud to the edge without sacrificing on processing power capabilities but decreasing the response time is key. Today with the possibility to deploy distributed automation systems and process the data at the edge by using powerful fanless computers, the need of AI in the cloud is only necessary for the very complex algorithm.
Edge computing in building automation will reduce false alarms due to real time application synchronization, and will give more flexibility and scalability as client application can be installed on the sensors or at the edge.
For example, a HVAC system using edge computing and IIoT infrastructure is more likely to react faster and more accurately in small environmental changes such as air temperature or occupancy levels.
Choosing the right edge computing system
In a previous article we mentioned the benefit of edge computing for the maritime industry. This is also relevant for building automation, however the requirements for environment and certification are easier to achieve and thus create broader hardware availability for industrial computers and networking solutions.
Selecting the appropriate platform for your automation system depends on the goal. Edge computing can be anything such as
a small RISK based architecture, to gathering and filtering a very small amount of data,
A ARM cortex for data comunication
a powerful GPU system for real time artificial intelligence.
Edge computing are also now embedded in IP cameras also called AI cameras and provides possibilities to use cameras as a sensor and process video at the source. Read more about camera as a sensor here.
Edge computing is moving forward to more advanced edge processing where Artificial Intelligence, also called AI, is in focus. Very powerful embedded systems, with Nvidia GPU system allow to implement solution with Graphical Processing unit where you can use application that requires a lot processing calculation on the edge.
However, one of the most important aspects of edge computing is the real time aspect ensuring the automation system is working like a clock (synchronization between application, such as elevator, doors, fire system and ventilation), and that the security system has no latency and the building is keeping its safety integrity.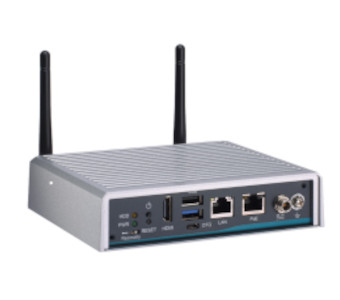 AIE500-901-FL - NVIDIA JETSON TX2
Artificial intelligence (AI) Hardware platform at the edge
AI is everywhere nowadays and is used to increase efficiency in process and make early decisions to avoid unsecure or unsafe situations or to have a better control of the energy consumption. It is also used to ensure that the facility is used at highest potential and ensures the visitor a good experience of the building.
Smart buildings need to learn how the visitors are using the facilities and together with historical and real time data ensure the building remains energy efficient, safe and user friendly. In the early days of smart buildings, the processing was centralized, the trend of cloud computing made the building manager use cloud solutions and applications to control the building.
Experience now adays shows that the optimal solution is obtained by using a combination of edge processing, deep learning and AI close to the sensor, and a bigger artificial brain in the cloud and leverage the IoT to get better insight. The Edge will take care of timely important information, this is where data processing may require a computer with powerful GPU such as the Jetson platform.
When distributing the computing power in a building, technical space can be an issue, therefore computer manufacturers are designing machines that can easily be placed in a standard electrical cabinet. Those solution avoid heavy server rooms located on each facility and reduce the maintenance cost attached to it.
When it comes to large IP camera system and CCTV, the amount of data that needs to be sent to the cloud for processing become too large for a sustainable solution. The time needed to send the data and process it for smart video analysis will not serve the system in a timely matter and the security system will not operate as required.
Conclusion
Deep learning and Artificial intelligence can be executed on the edge and deal with the real time aspects, but will also send only the most necessary data to the cloud for storage or historical analysis.
Both systems will coexist for years to come and due to the increasing volume of data, edge computing in building automation will play a bigger role in the smart building automation environment.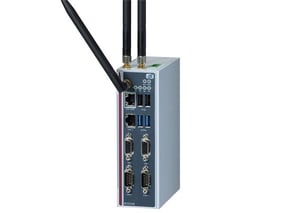 Hatteland Technology – your ideal smart building partner
Hatteland Technology has over 30 years of experience in designing security CCTV systems and computing solutions.
Our extensive knowledge of industrial solution for building autoimation, combined with our long-lasting relationships with the top suppliers on the market, makes us an ideal partner when integrated your infrastructur for smart building – or updating your existing one.
We can help you find your perfect system for smart building ! Contact one of our surveillance experts to review your options.