Allied eParts in Singapore appointed as Service partner




Allied eParts Pte. Ltd. (AEP) with its premises in Ubi Avenue, Singapore joins the Hatteland Display worldwide service network after signing a contract with the leading marine display and computer manufacturer during Sea Asia in April 2015.

Following the full training of AEP's Service engineers at the Norway premises of Hatteland Display and the set-up of the Service location including a wide variety of spare parts, AEP will be ready to perform warranty and non-warranty workshop repairs on behalf of Hatteland Display.

The agreement gives the highly valued customers of Hatteland Display the opportunity for extended access and faster response in service matters for standard and customer specific products of the Norwegian Manufacturer.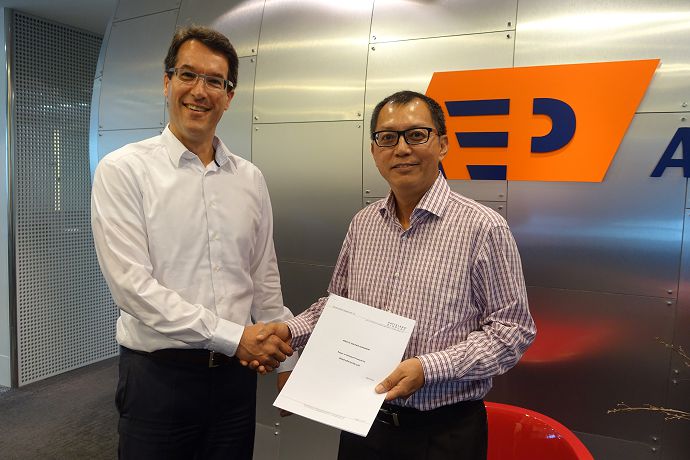 Mr. Goetz Vogelmann, Sales Director Hatteland Display and Mr. Lawrence Low, Managing Director Allied eParts.



"For many years, AEP and Hatteland Display have been cooperating in China as well as in Singapore where AEP offers Logistic support. Having close and open access to our top quality products is of vital interest to our customers. The improvement of the Total-Cost-of-Ownership (TCO) of our products include fast reaction on terms of deliveries and after-sales-services. We greatly enjoy the dedication and ambitions of AEP to help increase our business relations with our customers."', comments Goetz Vogelmann, Sales Director, Hatteland Display.

"This agreement will enhance our relationship with Hatteland Display. We are always looking to deepen our partnership with our key manufacturers, like Hatteland Display. It provides better and efficient service support to our customers.", comments Lawrence Low, Managing Director, Allied eParts.





--- About

Hatteland Display

---
Hatteland Display is the leading technology provider of specialized display and computer products, delivering high quality, unique and customized solutions to the international maritime and industrial markets. The company represents innovation and quality to the system integrators world wide. Effective quality assurance and investment in sophisticated in-house manufacturing methods and facilities enable us to deliver Type Approved and Mil tested products. Our customer oriented approach, technical knowledge and dedication to R&D, make us a trusted and preferred supplier of approved solutions, which are backed up by a strong service network.


--- Media Enquiries from

Hatteland Display

---
Lars Skjelbred-Eriksen
Vice President Sales & Marketing
Contact: +47 9133 2447
e-mail:

lse@hatteland-display.com