Maritime Multi Displays - Series X Generation 2 (G2)
Advancements for the Series X generation MMD (Maritime Multi Displays) have been rolled out across the 15, 17, 19, 24, 26 and 27 models.
For users, there is an improved Glass Display Control™ (GDC), GDC backlight uniformity and higher brightness for high luminance environments. For engineers and installers, developments include improved serviceability, allowing for better access to key components. There is also a new table/ceiling mounting solution for the 15, 17 and 19 inch models.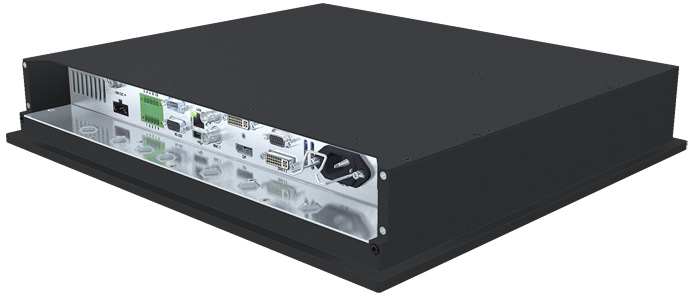 The 24 inch model weighs less than the current solution and its rear chassis casing box is smaller than the current. Additionally, tie-wrap mounting points on terminal plates have turned 45° to improve functionality. The 26 inch version also benefits from these changes. The 27 inch model is the latest addition to the Series X G2 product portfolio.
New features:
• Separate DVI-D and VGA inputs are now DVI-I inputs
• Added Display Port (DP) input (VGA to DVI-I adapter is required, when VGA input is selected)
• VGA out is standard
• 2 x Composite video inputs as standard, 3rd possible via option
• DDC/CI communication protocol is supported
• External Power button + I2C support on user interface connector
• New SCOM commands, updated SCOM protocol
• Support upload/download user settings in OSD menu over SCOM protocol
• Support SCOM communication over USB (in addition to existing Serial and TCP)