The Rackmount Computers

HT 216 2U and HT 416 4U Standards
T
he HT 216 and HT 416 are the next generation of Hatteland Display 19" 2U and 4U rack mount computers respectively. Similar in functionality and design, these two products offer 2 19" rack form factors to choose from.
They have identical board support packages (BSP), same drivers and devices. Both are built to high standards to ensure reliable operation in all conditions and offer scope for extensive user configuration, including the choice of hard disk or solid state storage with up to 8GB of ram memory.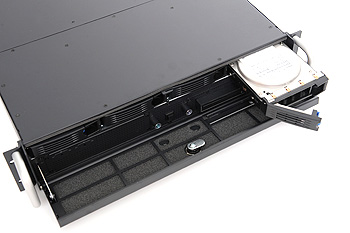 They have four front-mounted removable disks, tested and approved with 1TB disk-capacity.
They are based on the Intel® Q965 chipset and use as standard the powerful Intel® Core™2 Duo Desktop Processor E6400 - 2.13GHz, Bus Speed up to 1066MHz, 2MB L2 Cache.
The fans are temperature controlled, and have excellent thermal design.

With only 17,44 inches of depth, the Hatteland Display Rack Mount Computers demand less space than many other competing products.