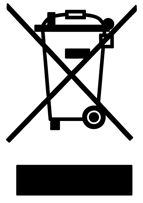 To be able to dispose of the product in the correct manner, Hatteland Technology bases its requirements on Commissioning Regulation (EU) 2019/2021.

For more instructions concerned to the dismantling procedure, please contact Hatteland Technology.

Step 1.
- Seperate the electronics from any metal and glass that is easily separatable.
- If unit is optically bonded, do not separate TFT panel from glass and Metal frame (glass,TFT panel and Metal Frame is to be disposed of as if electronic waste if Optically Bonded).

Step 2.
- Sort the source materials and dispose of the electronics and metal/glass parts in the appropriate recycling/sorting station.