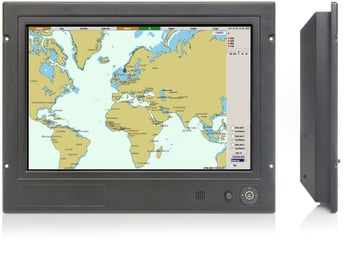 Monitor - HATTELAND® Series 1 G1
Signal input/output options can be increased upon request by using the Multifunction Connector, which allows the connection of many common signal types through a single cable connection, for common signals such as; Composite Video Input, Touch Screen and Serial Communication. The models provide Picture-By-Picture (PBP) and Picture-In-Picture (PIP) functionality. Aspect ratio is 16:10.

Further, all models and variations can be offered with Optical Bonding Technology that mitigates screen misting. By factory standards the unit is ECDIS Compliant. Single AC model is also available.