Whether constructing a cargo ship, tanker, ferry or cruise ship, the first and foremost priority of any shipyard should always be safety.
In order to satisfy the industry's rigid safety standards, implementing an extensive, qualified and DNV-approved CCTV system is paramount – but identifying the optimal CCTV solution for your project can be challenging.
In this article, we take a closer look at the most important aspects to consider when choosing a CCTV system for maritime applications.
Read more: When Elpro was contracted to refurbish Hurtigruten they turned to Hatteland Technology for their CCTV needs
Finding the right balance between quality and cost-efficiency
Although an important one, CCTV is just one piece of the puzzle when designing and constructing a ship. Shipyards rely on a multitude of suppliers and installers – providing everything from décor, windows, and electrical wiring to sonar, echo sounders, and CCTV – and utilizes the expertise of a consulting company to piece together the puzzle.
In collaboration with the shipyard and the end user, this consulting company will draw up a list of detailed specifications for each aspect of the ship.
It is close to impossible for consultants to have the needed expertise in all areas related to the construction of a ship and therefore they must be able to rely on their suppliers and installers to provide the best and most cost-effective solution for their individual area.
Naturally, all involved parts opt to find the most affordable solution but anyone that has been involved in the construction of a ship knows that this is rarely, or never, the end result. The real challenge for suppliers and installers is balancing cost-efficiency and quality and being able to substantiate your suggestions.
The right equipment for every specific area and purpose
This is especially true for your CCTV solution – where affordability can never be a priority at the expense of quality and safety.
There is, however, a lot of opportunities to keep your CCTV system affordable and cost-effective, without sacrificing quality.
It all comes down to choosing the right equipment for every specific area and purpose. And here at Hatteland Technology, we have over 30 years of experience doing just that.
Use only DNV-approved CCTV equipment on the bridge
All CCTV equipment on the bridge is required to be compliant with IEC 60945 standards – regulating all equipment used in marine areas – and approved by DNV GL (Det Norske Veritas).
This includes all PCs, monitors, panel PCs, keyboards, joysticks, jog wheels, servers, clients and cameras located on the bridge.
DNV GL will review certificates and perform tests on all components of a bridge system and the results of these tests will determine what class of certification the ship will be awarded.
Read more: DNV certification – a brand of quality for all critical system equipment and components
Amongst other things, the DNV tests the components' capabilities in relation to:
Shock and vibration:
Marine vessels experience varying degrees of shock and vibration, and components have to be tested in several unique patterns.
Electromagnetic interference (EMI):
The electromagnetic energy which affects the functioning of an electronic device.
Electromagnetic Compatability (EMC):
A component's ability to operate as intended in its shared operating environment while not affecting the ability of other equipment within the same environment to operate as intended.
Moreover, approved components are a mark of quality and reliability. As such, we recommend using only DNV-approved components for your CCTV needs on the bridge.
Field-of-Vision – a major factor
Field-of-Vision (FoV) on the bridge is a major factor when determining the amount and type of CCTV cameras needed.
This is due to safety reasons related to the position of the boat, as well as monitoring important processes on and around the bridge where safety may be a concern.
Ships with extended bridge wings from the pilothouse may have an extended Field-of-Vision compared to ships with a smaller pilothouse, thus requiring a reduced CCTV setup on and around the bridge.
CCTV for outdoor areas
As opposed to equipment on the bridge, CCTV cameras in outdoor areas are not required to be DNV-approved. They do, however, need to be non-corrosive and IP66 rated.
Ingress Protection ratings define the levels of sealing effectiveness of electrical enclosures against intrusion from foreign bodies such as dirt and water – and an IP66 rating testifies that the camera is protected from dust, heavy sea and high-pressure water jets from any direction.
CCTV cameras used in outdoor areas can be divided into three main categories:
Fixed cameras
Fixed cameras are used in areas where constant surveillance is a necessity and there is no need to move the camera.
The maritime industry relies on two types of non-corrosive materials due to the requirements linked to salt water exposure: Stainless steel and POM.
While Hatteland Technology supplies both, we tend to recommend choosing our Seahawk POM cameras when applicable. The material makes Seahawk cameras lighter, yet still rugged, and easier to mount than their stainless steel-equivalents. Furthermore, these cameras require no heating element in order to avoid condensation, as opposed to stainless steel cameras.
Seahawk cameras provide a PoE-compatible, low-maintenance and cost-effective solution for your CCTV needs.
PTZ cameras (Pan/Tilt/Zoom)
PTZ cameras, such as the NXPTZT from Videotec, are usually mounted on the bridge, on masts and in work-related areas onboard the ship.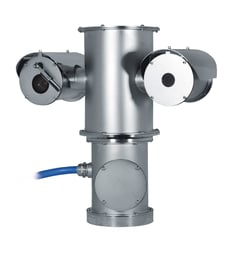 These cameras offer the ability to pan, tilt and zoom, making them ideal for areas where you would want full control and a 360-degree view.
PTZ cameras can feature real-time dual vision, integrating a day/night color module and a thermal imaging camera, for security applications in most corrosive industrial and offshore/onshore marine environments.
They provide great visuals even in complete darkness, through fog, rain and heavy smoke, or for long-distance surveillance.
Dome cameras
In certain critical outdoor areas, where safety is an issue, you are required to have large stainless steel-cameras with a wipe-and-wash function, in order to optimize vision and reduce the risk of serious injury.
However, in non-critical outdoor areas, you should consider installing dome cameras. These cameras are easier to mount and maintain and present a much more cost-effective alternative – both in terms of price per camera and installation costs.
We recommend the XNP-6320HS dome camera from Hanwha.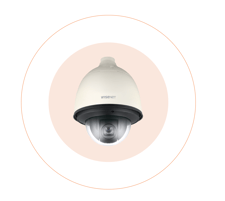 Focus on what is important
Most fixed cameras have a wide-angle view. While this is beneficial in many cases, there are certain situations in which you would want the ability to adjust the focal length, the angle of view and zoom level.
If the purpose of a camera is to monitor a certain instrument or process you do not want large metal structures occupying the majority of the screen. Instead, you will want to utilize as much of the screen as possible, focusing only on the components the camera is meant to monitor.
To do this you should choose a varifocal camera, allowing you to narrow down your viewing angle while at the same time getting a lot more detail within your focus area. Because it's difficult to provide cameras with a specific focal setting, we offer cameras with a "one-size-fits-all" varifocal lens, which is adjusted upon installation.
Read more: CCTV solutions for application in hazardous areas and explosive atmospheres
Choose mini dome cameras for indoor areas
CCTV cameras are spread out through all indoor areas of a ship – in the machine room, in cargo holds, in hallways and so on.
Your main concerns when choosing indoor CCTV cameras should be size, safety, and affordability. More often than not your answer should be a Mini Dome Camera, such as the QNV-7080R from Hanwha.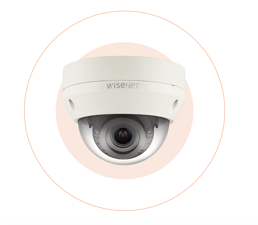 Mini Dome Cameras are usually the most affordable option and take up much less space than most types of cameras. In addition, their shape reduces the risk of injury in narrow hallways and cramped machine rooms.
Lastly, Mini Dome Cameras are easy to mount and don't require too many specific brackets and other components.
Cut unnecessary costs with PoE cameras
One final thing to consider is whether or not it's beneficial to install PoE (Power over Ethernet) cameras in areas where this is possible.
PoE is one of the major benefits of modern IP cameras, as opposed to the older analog cameras, and allows for supplying both power and Ethernet connectivity through one single cable.
If you have a camera located 90 meters away from your server the cost benefits of only having to draw one single cable, rather than separate cables for electricity and connectivity, are quite obvious.
Recommended reading: An introduction to computer networks on board ships
Utilize Hatteland Technology's extensive knowledge and expertise
Here at Hatteland Technology, we have been providing electrical installers and sub-contractors in the marine industry with complete CCTV solutions for over 30 years.
By utilizing our extensive knowledge and expertise, you will be able to offer your clients more cost-efficient solutions without sacrificing quality – giving you an edge on your competition to secure more projects.
We identify the best CCTV solution for any area and purpose and help you provide the best possible service to satisfy both the shipyard and the end user.